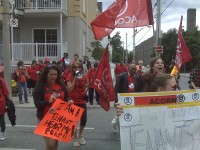 New Orleans As the international work percolates along let me share a couple of notices on campaigns that are stirring in Toronto in an exciting campaign that is leverage political strength to win tenants rights and of course our on-going effort to force there to be accountability in India before there is an relaxation on foreign direct investment in retail.
Washington Post – July 12, 2009
India's First Wal-Mart Draws Excitement, Not Protest
Venture Comes With Limits That Protect Merchants
http://www.washingtonpost.com/wp-dyn/content/article/2009/07/12/AR2009071202176.html
AMRITSAR, India — That's not to say everyone is welcoming Wal-Mart. India Foreign Direct Investment Watch, a national coalition of labor unions, environmentalists, nonprofit groups and academics, has said that the company will eventually hurt shopkeepers, even if its store is not open to everyone in the general public. "Wal-Mart's sheer size gives it unrestrained economic power, which allows it to drive down costs in the retail and manufacturing sectors and to enact its own standards with regards to its work force," the group said in a statement.