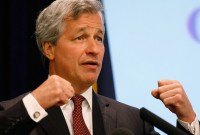 New Orleans On the front page of the papers today there is more drumbeating about the President having yet another meeting with the nation's top bankers to jawbone them to finally start making loans to small businesses and homeowners.  At this point it is hard to even call this jawboning.  It's more like gumming them.   This seems to have now become a semi-annual charade that Obama and the bankers have in order to put on a show for the American people that they are all "trying" to do something, while they don't really do jack about any of these problems.
The Obama Administration's doctrine around banks seems to be "speak softly and carry no stick."  All of which is bizarre.  The U.S. Government bailed these boys out for billions, but now they act like they don't know our name.
Note to U.S. Citizens: next time let's just federalize the banks until the crisis is over for all of us and not just for them!