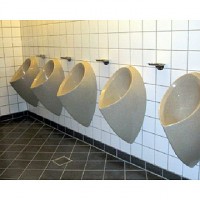 Delhi This article in The Times of India about the planning and preparations for the Commonwealth Games in 2010 is too good not to share.  It has everything.  It reminds me of that David Alan Cole number about the perfect country-and-western song.  This is just about the perfect Indian article capturing in a vivid way part of the very special culture as well as the confusion and contradiction between public and private roles:  city built latrines for the public that will pay off from the private sector and eliminate smells to boot!
Civic body plans to build 1,000 waterless urinals
New Delhi       The MCD plans to upgrade 1000 public urinals to 'waterless urinals' in view of the Games.  Two lakh litres of water will be saved by using the technology which will also take care of the problem of foul smell.  A proposal in this regard was passed by the standing committee on Thursday.
Continue reading "Waterless Urinals"