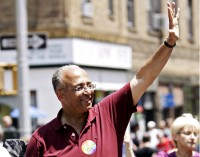 New Orleans It's a small sample, but the Virginia bellwether and the deeply blue state New Jersey went hard Republican and in Jersey tossed a Democratic governor looking for a second shot.  Across the river, New York City voters surprised the chattering political classes by almost moving Mayor Bloomberg to his next career as a philanthropist and out of his current posting as a semi-politician.  A couple of thoughts crossed my mind.
Voter slaps at Corzine and Bloomberg have a populist anti-Wall Street and decidedly, "money-can't-buy-my-vote" cast to them for two rich guys willing to spend whatever it takes, particularly the record setting $90M outlay by Mayor Bloomberg in his very close race.
Unions need to listen to their members more and to political pros and consultants less.  It's embarrassing to know that two huge NYC political players, SEIU and UFT/AFT, took a walk on this election.  Their members didn't.  Controller Thompson, the challenger, romped with African-Americans and voters making less than $100,000 both of which are heavily represented by those two unions.  Had they not been twiddling thumbs on the sidelines, this race would have been even closer and might have sent a message against big money politics that could reverberate around the country.