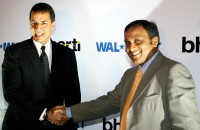 Mumbai Killing time in the Delhi airport on the way to Mumbai, my eye caught the cover of a Forbes – India magazine with a huge headline:  "Wal-Mart's Billion Dollar Baby."  The India FDI Watch Campaign is still determined around these issues, so I was curious how the company was spinning their joint venture with Bharti these days.
Wal-Mart is amazing.  You take your eye off the company for a minute, and it explodes on you.  Gross sales are now over $400 billion annually.  The company has to add $8 billion, just to grow by 2%.  But, I digress, because public relations though all of this clearly was, there were nuggets of real interest.
They concede that pure, legitimate "cash-and-carry" or full-on wholesale operations, which is their only legal entry point within the foreign direct investment (FDI) rules in India is a first for them.  Even Sam's in the US is a hybrid of individual member/customers and business/wholesale purchasers.  In India the entire focus of their market is the birana or mom-and-pop stores that proliferate in India.