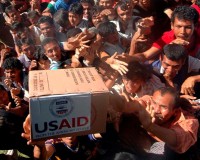 Quepos Five years ago the tsunami hit south Asia as bringing a terrible tragedy killing more than 225,000 people in more than a dozen countries.  Banda Aceh in Indonesia was at the epicenter with almost 170,000 of the total estimated deaths.  I have often spoken about our partner, the Urban Poor Consortium, and the work they did in the area in helping fishing villages rebuild homes and livelihoods after the tsunami, and the difficulties they confronted in handling the arrogance and insensitivity of the donor countries and the NGOs.
Peter Gelling in an article in the New York Times may not mean to be indicting the United States Aid for International Development (US-AID), but there was no way not to read the story of the 93-mile new highway forced through Aceh in exactly that way.  The spin from AID repeatedly was that the local population would like the highway sometime in the by and by as years went by.
"But some villagers along the route, unhappy with payments they have or have not received for their land, continue to resist the project, erecting blockades of barbed wire and boulders to obstruct traffic and further construction.