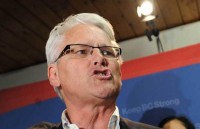 Vancouver Even as the regional leaders of the BCGEU were strategizing with me on Friday morning about living wage campaigns in their cities and raising the minimum wage in British Columbia, according to the Prince George Free Press the local City Council had reneged on a pledge made in 2007 to the support an increase from $8 to $10.  The previous City Council had signed on to a request from the BC Federation of Labor along with 16 other cities in the province.  Now they wanted to run from the issue and push it back to their "poverty reduction" committee to come up with something else or another way to deal with these issues.  I didn't read the paper until I was waiting for the 530 AM flight from Prince George to Vancouver or I would have loved to have asked Jim Sinclair, the well regarded President of the BC Fed who was also with me at the BCGEU conference, what he would have made of this problem.
I think it speaks to the need for a provincial (statewide) strategy for increasing the minimum wage, as difficult as that might be given the likely fierce opposition of Premier Gordon Campbell, who sits on top of provincial government now with the Liberal Party.  Talking to leaders and staff of the BCGEU, there seems no question that it is legal to bring forward an initiative petition.  The requirements are stiff though and results are uncertain.
A petition would have to be registered with the Elections office, and once secured the petitioner would have 90 days to get the required signatures, meaning 10 % of the registered voters in each riding (legislative district).  Then there is a period for verification of the signatures (about 40 days) and a referral to the legislative standing committee to determine whether to table the bill or force a province wide vote.  If a vote were required, then the election would be held in late September, 2011.  This is not a slam dunk still, since winning a vote of the people does not enact the measure, but instead forces the bill to be part of the gristmill of the legislative process where it may be amended and rise or fall.  So, there's no denying this would be a huge lift and a fierce fight.