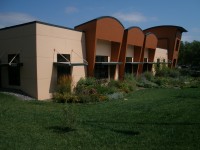 Helena Driving across Wyoming and Montana is a homecoming as memories and mountains swallowed 50 feet of truck and trailer, family and friends, as we gulped in the view, cool dry air, and good company.  At lunch we lived a highlight reel as old comrades and friends, Pat Sweeny of WORC (Western Organization of Resource Councils) and Theresa Erickson of Northern Plains Resource Council (now 38 years old!) showed us their environmental showcase green building in Billings and talked about times past and times to come.  Dinner found us heating a pizza and drinking Grizzly Drool (Montana's own) with old buddy and companero, Jim Fleischman at he and Deb's huge place virtually within sight of the state capital of Helena.   For all of the stress and struggle of pulling 7000+ pounds of trailer over the mountains, all of this felt like a gift!
Chaco, CJ Butler (nephew and invaluable chief technician on this tour), and I pulled all of the gear out of the truck and trailer in the evening to see what we had and what we needed.  Old batteries had to go, mantels needed to be bought, missing outdoor shower found, fishing gear box lost, so it was pretty much the usual, though it was the first time on a camping trip a broom and mop had made the list, but the Silver Bullet needs care and attention.  Fishing licenses need to be bought, reels strung up, and a hundred other last minute items of work and pleasure checked off today.
Tomorrow finds us with an even larger crew heading for Secky's Sweet Spot a piece along the blue ribbon trout stream where the Silver Bullet will come to rest after 4 years of post-Katrina service for staff and volunteers and a year of helping CJ and a buddy find a soft berth in the move from Conway, Arkansas to Denver, Colorado.  Assuming we can get all of this up 15 miles of dirt road and across a wooden bridge (how wide and how much weight), level the ground and the trailer, then this 1978 Airstream International Sovereign will be good to NOT go and available for service as an annual fishing camp, store house, and guest lodge for friends, family, and fellow travelers savvy and swell enough to know Secky or me.  That's the plan.  Fingers crossed.