Good Karma Points
Play Now
|
Play in Popup
|
Download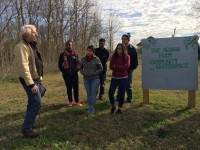 New Orleans     A robber with a long beard was so brazen in the New Orleans French Quarter that he simply walked into the gallery and walked out with a painting valued at $250,000 by the late Cajun painter, George Rodrigue, famous for his Blue Dog works.  The next night a band, Stereo Fire Empire, leaving a gig at 1AM at the House of Blues and talking about the boldness of the heist, walking along noticed two paintings leaned up against the wall of a building, and recognized the missing Blue Dog work, and promptly walked the two blocks to turn them into the police.  Their only hesitation, which would be prudent in New Orleans in dealing with the police, was whether the police would arrest them!  But, they were set on doing right, regardless, because in the words of one, it would give them "good karma points."
You know there's something important to that story that transcends this painting.
I thought about it myself the other day as I spent an hour of a busy workday with more than 15 volunteers from Oglethorpe University in Atlanta who were working at the ACORN Farm in the Lower 9th Ward. They jumped to the task clearing weeds and brush with machetes, buck saws, and swing blades, mowing the grass, raking leaves into the compost piles, and digging holes for new fruit trees with shovels and post-hole diggers. It wasn't an earthshaking event in the world of social change but it was an earth sharing event that had to be done and was fun to accomplish, because it was necessary.  As Christal Hayes, one of the volunteers wrote me, "I hope you enjoy the pictures I have attached from today and it was a pleasure…! Thank you for an amazing service experience." Good karma points all around.
A report from several extensive research studies on relationships by the Pew Research Center and others from all around the world is shedding light on relationships, like marriage, and their impact on income equality.  These studies are also shedding light on what makes people happier and more content.  The obvious is unavoidable on the money side.  Two is better than one when up against the storm, and if both are working, then you almost have a fighting chance of making it a hard world.  It is also interesting that they found that marriage has little to do with it.  Long term relationships have the same effect as blessings from the church and state, so good news for people, and less so for those institutions.  This isn't true everywhere.  Latin America and south Asia don't find themselves happier in such relationships for example.  The kicker on these studies is that the friendship is more important than the marriage.  Having a confidante.  Having someone watch your back.  Having a partner on the long road.  It matters.
Good deeds.  Helping others.  Friends and lovers.  It's worth all of us building up some "good karma points."  Rock on, Stereo Fire Empire!