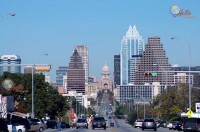 Austin It was great to be welcomed by some of the progressive community in Austin last night to talk about Citizen Wealth, but to me the most interesting conversations continued to be about the strains of development in and around the continuing Austin boomtown, particularly at the intersection of development and water.  One reason water is on everyone's mind in Austin now is simple.  They are stuck in a drought that has run several years and has set a new baseline as the worst since 1940.
In a confusing development there is a proposal on the table for the city to build a new plant for a half-billion dollars.  Ironically, though some are pushing for a replacement plant, most of the folks believed that it could be fixed "with a wire brush and a can of paint."
This is the tip of the problem though in Texas.  There seems to be an emerging recognition that water is the new black gold that oil has long stood for in Texas.  The Edwards aquifer that has long defined politics and development in San Antonio has become with the drought an increasing flashpoint in Austin, and it's spreading throughout the state.