N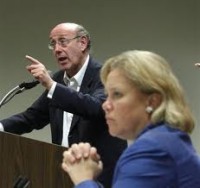 ew Orleans My darling and brilliant niece's husband, an Australian bloke who we dearly love, was working this summer running a high end, specialty bar at the W Hotel on Poydras Avenue in New Orleans during the time of the terrible British Petroleum Gulf Oil Spill.  My daughter, Dine,' now a mainstay of the Local 100 United Labor Unions organizing staff in New Orleans and ever alert to both injustice and opportunities started telling me a couple of weeks ago about huge, wild settlements going to bartenders in the French Quarter, CBD, and even in our Bywater neighborhood.  The amounts were amazing:  $7000 to one, $17000 to another, and so on!  I was skeptical.  She cited Will Miller as an impeccable source, so I was moved, but wanted to know more.  Maybe this was just a benefit being sought and received by a secret society of New Orleans bartenders, rather than part of the Kenneth Feinberg compensation and damages program, official called the Gulf Coast Claims Facility?
With the deadline hard on us for emergency claims to be submitted (Close of business on Tuesday 11/23!), I didn't' want to start an irresponsible gold rush, if this was nothing more than rumor fueled by alcohol coming from the hands of the same bartenders.  I know not to trust the hometown paper as the ultimate authority on these matters, but all of their storylines had focused on oil workers, fishermen, and others barely staying afloat with graphic photos from the beautiful and damaged bayou country south of the city.  Why were we not seeing pictures of lines trailing out into the streets here in broke ass New Orleans, if money was falling from BP trees, especially in the always hospitality hard luck and humidity summer season?
My daughter – the organizer – felt the issue was that not enough people knew this was possible and were going to apply and get the compensation.   Pressed this week for more information, she confirmed that other conversations with hospitality workers in her haunts, I mean after more outreach and research, she had turned up servers and other "line" workers who had applied and gotten payments also ranging in the thousands of dollars.              Ok, I'm there!