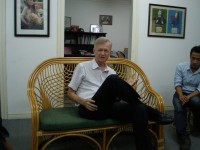 Hanoi From the outset I'll be clear that we met some fine non-profits or NGOs (non-governmental organizations) in Vietnam during our visit there.  RENEW and the Vietnam Veterans' Memorial led by Chuch Searcy virtually brought tears to some of the Organizers' Forum delegation as he told of the challenges of clearing ordinance and the injuries everywhere.  We met dedicated young people with Habitat International in Hanoi and the NGO Resource Center in Hanoi and LIN in Ho Chi Minh City trying to pull big and small pieces together.  We met people with projects among children and in an array of planning and disaster preparation areas.  We met operations set up as NGOs to support workers living in dormitories who had migrated into the Special Economic Zones and the new industries.  When we met with PACCOM, the governmental liaison to NGOs, they could not have been more clear how much they support "the sector."
Nonetheless, the picture for NGOs is not a pretty one in many respects, and at the least it is crystal clear that there is virtually no such thing as "free and independent" activity in this sector.  Furthermore, it is also clear that much of the government's enthusiasm for NGOs is its desperate quest for donor dollars and continued need to shed subsidized service segments.
There seem to be a menu of laws and regulations affecting NGOs, many of which change constantly from what we learned  at the NGO Resource Center, but no matter what is happening with the laws, it is clear that for any foreign NGO to operate they have to have a license from the government.  They would also need another license for each project they would undertake.  Yet a thrid license would be required from the government in order to locate a staff or headquarters operation in country.  The government is pretty much a silent or overt partner in much of this as well down to the level of naming a co-manager, though a silent one, at the NGO Resource Center.  The government would select where Habitat worked and provide the land.  Projects would be approved and then canceled for reasons unknown as governmental interests or priorities shifted.
Many of the locally based NGO's and many of the local staff for all of the NGOs were former government bureaucrats in similar fields.  This was a track from lower to higher pay.  People couldn't have been more frank about it. For the government it also meant that they were dealing with proven commodities and folks who knew how things were supposed to work and wouldn't shake the boat.  All the NGOs we met were clear that they were not advocates and could not be advocates.