Uber Deal with Machinists is Worrisome
Play Now
|
Play in Popup
|
Download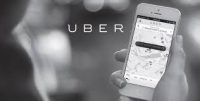 New Orleans   Uber, the ride-sharing service, has announced that it has come to an agreement with the International Association of Machinists (IAM) to create a guild or association of some sorts that it will informally recognize for its drivers in New York City. James Conigliaro Jr., the guild founder and assistant director and general counsel at the International Association of Machinists District 15, which represents workers in the Northeastern US, said, "…we've successfully come to agreement with Uber to represent the 35,000 drivers using Uber in New York City to enhance their earning ability and benefits."
I'm a big advocate of majority unionism and alternative organizing models and techniques, but whatever this is, it doesn't quite smell right to me. Uber is still maintaining that its drivers are not employees, yet the union is claiming, based on an "agreement" with the company, that it can "represent" all of the workers. The Machinists are also claiming that they can improve their wages and benefits without offering details about how that will happen other than the fact that they now have a five (5), yes five year, agreement that provides for monthly meetings of some bodies with somebody from Uber.
So, if I get this right, a company without workers is signing an agreement on behalf of those workers with a union without members among those workers to create a way to talk about wages, hours and conditions of employment. Except for the fact that everyone has agreed to play-pretend that the drivers are not real Uber employees, under the National Labor Relations Act this would pretty much categorically constitute an 8(a)2 violation or what is known commonly as a "company union."
Meanwhile, certainly known to the Machinists, more than 5000 real Uber drivers have already signed authorization cards seeking to be represented by the Transport Workers' Union in New York City. Both the IAM and the TWU are members of the AFL-CIO, so how does this not constitute an Article XX violation of the AFL-CIO's constitution or what is known commonly as "raiding?" If not raiding, it's certain interference.
On Uber's part they already are familiar with direct unionization efforts in Seattle, San Francisco and other cities. Their recent settlement of a class action suit in California was widely seen as an effort to buy time for the company's effort to continue to pretend that its drivers are not employees, and they agreed in that settlement to also begin meeting in some form or fashion with their drivers on issues as part of the settlement.
All of this also smells a little like the company was union "shopping" for a partner here. The Machinists certainly do a bit of organizing, though that is not their primary reputation. According to NLRB statistics for the five years between 2008 and 2012 they had an excellent win rate and ranked in the top ten, but during that period they only gained 11869 workers in units they won, which isn't much over 2000 workers per year, if they converted all of them into members, which never happens. Their organizing totals were five times less than the NLRB results for either the Teamsters or the Service Employees and half as many as the Food and Commercial Workers. Meanwhile they have fallen from 730673 members in 2000 to 570,423 in 2013. I'm not saying they won't try to take this lemon and make lemonade, but when Uber was looking for a partner, Uber would have known the Machinists were "needy" and desperate to grow, one way or another.
When it comes to benefits, still without either talking to the drivers or the Machinists, Uber also announced that it has contracted, yes, contracted, with the so-called Freelancers' Union in order to see what they can cook up in terms of portable benefits and the like.
It is easy to see that Uber wants, and is getting, huge cover from all of this, but when the workers are on the sideline reading the news in the paper or getting alerts on their smartphones, it seems more like a scam that something substantial for the workers.