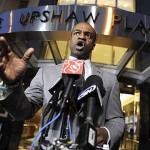 New Orleans Not surprisingly the NFL players and owners marched into the abyss yesterday in another high-profile fight over the value of collective bargaining, though in this case in order to hold on to what they have meant tactically decertifying the union and filing an anti-trust injunction against the owners.  In Wisconsin even giving financial concessions wasn't enough to stave off the attack at the very heart of collective bargaining.
A fan and a union man would have to wonder how much of the NFL battle was even really about the money.  Looking at the math in the sports page today, where the parties started at a billion dollars in difference, they ended up at a $200 million separation, which in "high-low" bargaining would probably be a deal or close to it.  The owners would never open their books, which in labor law is required if a company is really "pleading poverty" as opposed to just plain and simple "hard bargaining," which is perfectly legal of course, so you can smell a rat there.  This seems about greed more than money, and, dammit, that's worth a fight even if the NFL is hardly is the picture postcard of the heartland of the working stiff.
Though maybe that's wrong this time around?  Maybe in the 20 odd years since the last conflagration in the NLR labor wars (and I can remember picketing with the Saints players then and still have my sign somewhere!) we're clearer about the sides than we were.  Playing with the pros is still the hidden dream for millions of poor and working class kids, boys and girls, in tens of sports across the country.  It's one of the few brass rings of dreams left in something that combines phenomenal luck with good genes and a true meritocracy.