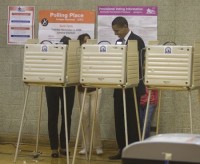 New Orleans The popular Politico blog by Ben Smith on October 15th drew the obvious conclusion last week about the report that voter registration numbers are significantly down, especially in lower income districts, that allowing the right to take ACORN out of the equation and chilling virtually all large scale registration efforts will be a huge favor in the midterm elections.
The Washington Independent's Jesse Zwick reports:
After more than a decade of success expanding voter rolls, voting rights advocates are noting a disturbing trend in the run-up to the 2010 elections. Dramatically fewer groups are engaged in registering voters during the current election cycle than in previous midterm elections, and fewer voters, especially in poorer areas that are traditionally underrepresented and therefore the usual target of voter registration drives, are registering to vote as a result.
Registration patterns vary significantly from state to state, but 26.7 percent fewer new voters have registered in