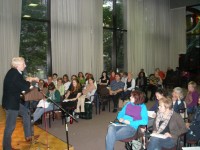 Montreal What a great day in Montreal!  There are so few chances to have good spirited and deeply serious conversations about organizing down to the level of what we have really accomplished and our serious challenges, that one meeting after another seemed a gift.
Rolling off the road, Jill O'Reilly, director of Ottawa ACORN, and Nadia Willard, one of the great emerging leaders in Ottawa ACORN, sat down to a visit with our host and the main organizer of our day, Professor Eric Shragge, and a local organizer and filmmaker, Amy Miller, and got a sense that we were in for some fun.  By the time we had been revived by a stiff cup of Vietnamese brewed coffee, we were fired up and ready to go.
During the day we met first with more than 20 organizers and activists with local organizations where we were able to get a better sense of the organizing in Montreal.  When that session ended I then spoke and answered questions from more than 50 Concordia College students and members of the public about "Organizing for Justice in the Age of Obama."  We finished with a dozen people drawn together in the large Maison Verde Coop in a neighborhood west of downtown in yet another spirited conversation with organizers, activists, and others.