Skype Magic and Mayhem on International Reports
Play Now
|
Play in Popup
|
Download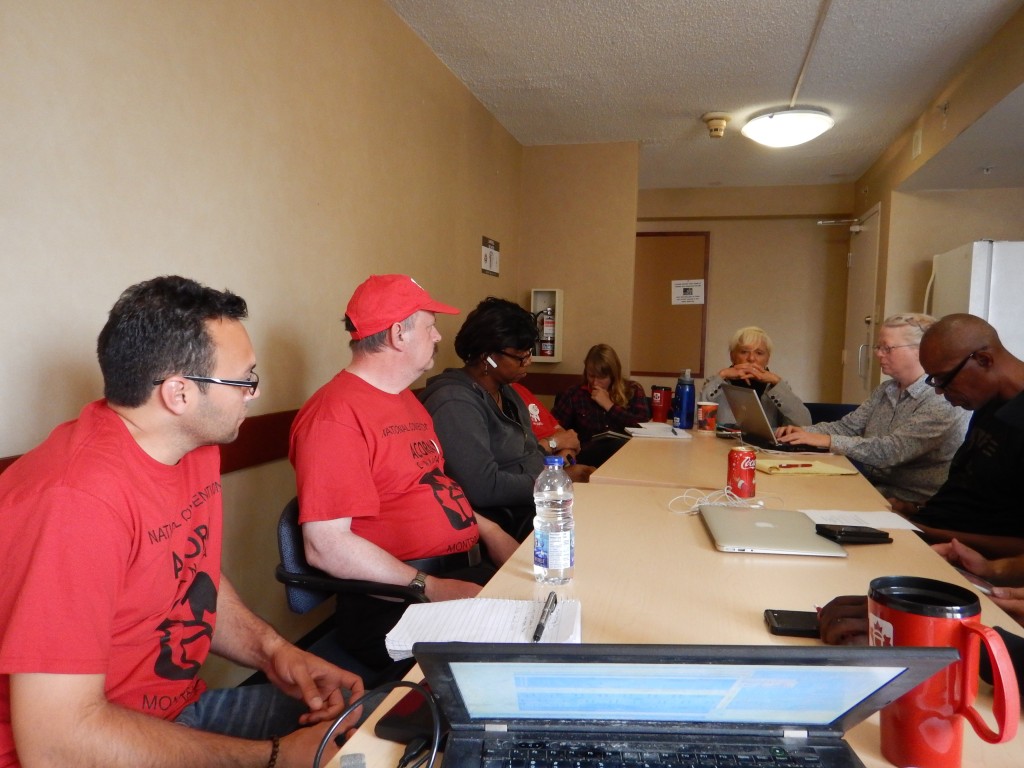 Montreal     Every year, as the ACORN International has its annual staff and leaders meeting for all who can make it, we come to a point we both welcome and fear: video Skype reports from our organizers around the world. In some ways, this annual trial by fire was the best. Only our team in Nairobi, Kenya had a complete meltdown of their Skype program refusing to upload and their internet connection going down, so they were badly missed. Though some schedules flip-flopped with difficult connections and restarts in Delhi and Quito, only Lima was missing in action and unable to be found. Video worked well in Edinburgh, Mumbai, San Pedro Sula, Bengaluru, Grenoble, Prague, and Bristol which provided highlights and hope for the future. Delhi, Buenos Aires, Tegucigalpa, and Quito could see us, even if we could not see them, but that's the way of the Skype world.  As we often say, the "best thing about Skype is that it's free!"
The reports themselves were a treat. Local 100 United Labor Unions had representatives present from Dallas and Little Rock, easily winning the long distance driving award, and they may still be on the road trying to find home now. Separate meetings of the union including New Orleans were valuable, too! A Community Voice from Louisiana, ACORN International's newest affiliate in the United States was a welcome addition, making many contributions. ANEW Institute from Pittsburgh intrigued everyone with some of their initiatives. Oh, and did I forget that we also had a Skype report with good video from Maryland from CROP.
Even getting monthly written reports, there's no substitute for face-to-face even if it is on Skype. A road was paved in Tegucigalpa in one community. In La Matanza, in the province of Buenos Aires, we have now won a regular program of cleaning in the river which often functions like more of a sewerage and drainage canal. In Quito, neighbors have finally been able to come together to agree to formalize the squatting settlement and win recognition and title for the area. Thousands joined the petition to stop evictions in Bristol. More than one-hundred have joined in one of the community organizing drives in Grenoble and another hundred came to a first action. The "living rent" campaign initiated in Edinburgh seems well positioned to win security of tenure or longer rental leases from the Scottish parliament once it resumes session. Delhi reported on meetings with the Chief Minister and the Labor Minister to advance our hawkers protections there. We have built some kind of unlikely partnership with police in one of our groups in San Pedro Sula. Doorknocking to build community chapters may be finally beginning in Prague. In one week, we will know how the Italian Supreme Court rules on our landlord-tenant bounty program. And, these were just the reports outside of Canada which we had already heard for days during the ACORN Canada Convention and had advanced with great actions.
On remittances, we talked about moving the demand forward in upcoming Canadian elections and how to move the campaign internationally using mobile transfer devices. We went back and forth on strategy around bridging the digital divide. We debated tactics on living wage and tenant campaigns.
We also spent a lot of time discussing training, especially in the wake of some of the upcoming visits of two of our new French affiliated organizers to Ottawa and New Orleans this summer. We went back and forth on how to provide such support for our Latin American operations to advance the regular training calls and phone conferences.
Whether Skype works well or not, it is hard not to always feel we have taken important steps forward when we force ourselves to sit and think about how to improve our work every year.