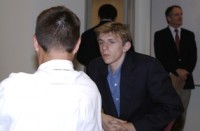 New Orleans               I continue to be fascinated that James O'Keefe has any credibility with anyone anywhere in the world.  The list is endless from his ACORN fake costuming and scurrilous video editing to his crazed phone tapping of Senator Mary Landrieu's office in New Orleans and on to one preposterous self-aggrandizing ego trip after another including a puff piece in the New York Times magazine.  A piece popped up on my Google Alerts though that surprised me so much, I wondered if it was a hoax, given how bizarre it is even for O'Keefe.  The piece ran in Op Ed News by a Gustav Wynn.  It has been previously reported by O'Keefe's home town paper in New Jersey and by Keith Olbermann, so some serious credibility has been attached to the piece.
At the least, suffice it to say, this dude is still totally out of control!
Sex, Drugs and Videotape: James O'Keefe Implicated in Barn Rape Plot
By: Gustavo Wynn
As reported by Keith Olbermann, Raw Story and NorthJersey.com, disturbing charges were leveled against James O'Keefe, the undercover "pimp" made famous in videos that informed a Congressional vote to defund ACORN (later ruled unconstitutional).
A conservative blogger from Tampa has reportedly shared details indicating she believes she became incapacitated and had her underwear stolen while she was in O'Keefe's company.
Her October 2nd visit concerned a proposal to be in one of O'Keefe's anti-Occupy Wall Street videos, says accuser Nadia Naffe – O'Keefe picked her up at the Newark train station and stopped off at a liquor store before driving her to his parents house where negotiations got contentious and O'Keefe became verbally abusive.
Naffe claims she began to have trouble controlling her muscles and threatened to call the police when she felt O'Keefe was trying to coerce her to stay. As she testified in a criminal complaint, O'Keefe demonstrated an "intent to persuade me to spend the night in the barn". O'Keefe and a pal instead drove her to Penn Station in NYC, Naffe reported, adding she lost consciousness during the ride.
After traveling on to Boston where she attends grad school at Harvard, Naffe alleged her bag had been rifled through, with panties and other items taken. She also reports O'Keefe made an unsolicited offer of money, but began harassing her shortly after she refused the cash, through direct messages and third parties.  Continue reading →