Hanoi The Organizers' Forum delegation kept hearing about the distinctions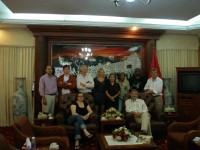 between unions, the government, the party, non-profits or NGO's, and associations, all of which became clearer in our first meeting in Hanoi with the Vietnam Women's Union, one of the principal associations in the country.  With 20000 staff at different levels and branches at every level, the VWU defined what the theorists used to postulate as the role of a "mass based organization" and its role in maintaining accountability, mobilization, and participation in a communist regime, though in Vietnam all of this is with a decidedly different twist.
The VWU is a membership based operation with dues about 25 cents per month and with over 10,000,000 members eligible to all women over 18 years old.  They exist as a specially chartered institution, much like the Red Cross and Neighborworks have special charters from Congress in the US.  They are guaranteed a meeting with the Pri
me Minister or the deputy Prime Minister every other year to push for their big "ask" in legislation.  Their job is to advocate and review and sign off  on everything involving women.
They also lose some.  We hear about the difficult fight they have had with the National Assembly to equalize the retirement age between men and women, so that women can achieve more equity in elite and senior positions in ministries, the Assembly, and workplace.  This one surprised some of us, since when first hearing about the earlier retirement age, I had thought, good deal.  The VWU put another spin on it entirely.  They had gotten the proposition through all of the levels but failed to get a majority from the Assembly.