New Orleans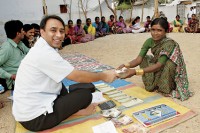 Microfinance has many positives, but should never be confused or misnamed as a "poverty reduction" strategy.   There is simply no way to reduce poverty through debt.  Microfinance or microcredit or micro-lending or whatever the name has a value for the poor as a way to access minimal credit to create or improve livelihoods, but such livelihoods, usually in the informal sector are marginal and fraught with the same risks common to all informal work and small business for that matter.  ACORN International's experience around the world is also very clear that there should never be any confusion about whether or not many of these loans are charitable because in fact they are often simply predatory.
I say all of this to put in some context a confusing article in today's Times entitled "Microcredit is Imperiled in India by Defaults" by Lydia Polgreen and Vikas Bajaj.  The handwringing in the article painted the problem as a "subprime" crises because 80% of the money being lent in India comes from the state banks and in Andhra Pradesh the article says, "…almost all borrowers have stopped repaying their loans, egged on by politicians who accuse the industry of earning outsize profits on the backs of the poor."
Indian politicians have deservedly earned a lot of skepticism and abuse for their probity and fairness, but in this case there's a lot more to the story, and the politicians are right about this, as even some of the industry officials partially concede.
Here's the real story in India in a nutshell.   The microfinance industry is no longer your older brother's microfinance industry of even a decade ago with small non-profits and NGO's and do-gooders.
Fueled by private bank money, many private finance operations have swooped into this lucrative market for lending to poor families and poor workers.  Microfinance is a major player in South Asia in India and Bangladesh particularly.   Andhra Pradesh is leading the accountability parade because the penetration of microfinance in the lending market in that state now accounts for about 12.5% of the loans outstanding.  Karnataka, where Bangalore is located is next with over 9%, Tamil Nadu, where Chennai (Madras) is the largest city has almost 5%, as does West Bengal, home of Kolkata (Calcutta).
Continue reading "Crisis of Accountability for Microfinance in India"