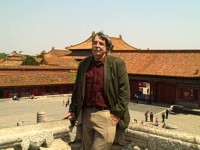 New Orleans A week ago I was in Boston.  Knowing I would be in Cambridge at the Harvard Coop, I sent an email to my friend and colleague, Tim Costello, suggesting he come over if he had a minute and visit and pick up a book.  The weather was miserably cold and wet, so I figured he had stayed home wisely and thought no more of it.  I had visited with Tim at some length in February of this year.  He had met me at Tufts after a meeting, we had lunch and he had to drop off a lunch his youngest daughter had forgotten.
We talked about a way that we could do some joint work with our research team in Florida, our organizers in India, and all of the good relationships Tim felt had been made in China with Global Strategies.  Money was an issue.  Money always seems to be an issue, but Tim and his partners were undaunted and committed to their vision, and in Tim's case, endlessly enthusiastic and optimistic about the impact of the work.
Tim was old school, and it was not old school meaning a couple of three or four decades ago.  Tim harkened back to the times more than 100 years ago when there were shop floor and rank-and-file intellectuals who lived and breathed as labor activists and self-made labor intellectuals.  Tim's story was an old story of driving trucks in and around Boston as a Teamster.  The values didn't change.  He talked about the times in between the projects, contracts, and grants when some of the team would paint houses and others would work as fishermen or pick up lobsters.  He talked about how hard it was getting, but there were no regrets.  This was the price of being both a working stiff and a totally committed activist to a vision of what lay ahead and needed to happen next.  There was no whine in the man.  His spirit was always infectious.