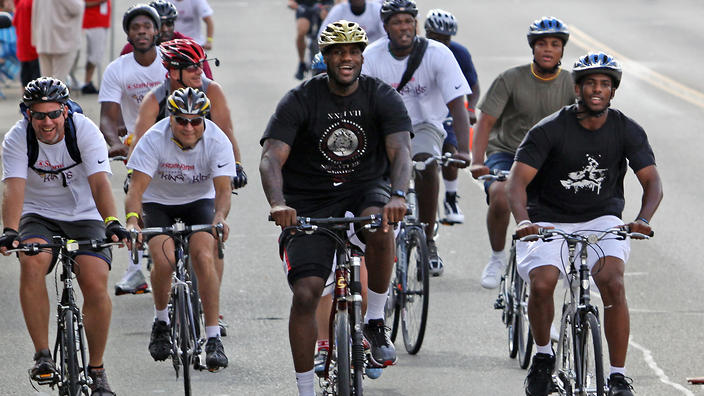 Auckland         As the sports commentators often say, LeBron James is "part of the conversation" on who might be the greatest basketball player ever.  Having played with the Cleveland Cavaliers where he brought them a title finally after decades and the Miami Heat where he won two championships, he has been in the finals for umpteen consecutive seasons.  Recently, at the end of a contract, he signed another with the storied Los Angeles Lakers to continue his career.   LeBron knows basketball, so why is he at the center of yet more of President Donald Trump's racist dog whistles to his base?
Well, in defending fellow superstar and longtime opposition competitor Steph Curry's comment earlier in the year that he and the Golden State Warriors had no interest in visiting the White House as long as Trump was running the circus there, LeBron had called the president a "bum."  Most of us would have thought that Trump would have been grateful.  There were so many other things he might have said, as we all well know, but Trump thrives on conflict, so it was on.
Trump bided his time but saw an opportunity.  LeBron James continuing to be an ambassador for northeast Ohio and his hometown of Akron, opened a school there called "Promise Academy."  Trump pounced on him and insulted his intellect in a signal of racism to his hater band.  He tried to get his goat by saying, "I like Mike," meaning in the arguments between the two he favors Michael Jordan for the GOAT award.  Jordan for his part voted for LJ, meaning LeBron James.  Melania Trump, the first lady, earned some respect, saying for her part, she would love to visit Promise and see what they are doing for children in Akron.
Most interestingly, I was captivated by the fact that LeBron gave every one of the children coming to the school a bicycle, explaining that having a bike when he was a boy opened up the greater world to him and allowed him to experience its potential and meet people, including white folks, and understand something outside of his home experience.  What a wonderful story.  Not the standard iPad or computer, but a door to the rest of the world and a way to exercise and be mobile at the same time.
Trump had a golden opportunity, but he blew it.  Some mass marketer or philanthropist will hopefully jump on the bandwagon soon to start a national program, let's call it "LeBron's bikes" to try and get bicycles to young people everywhere.
And, if Trump doesn't think LeBron is smart, how brilliant is it of LeBron to be identified with bicycles and not just basketballs.  I bet there is a long line in front of his agent's office of bike companies from around the world wondering what it would take to have LeBron pitch their bikes or how many of them they can give to children hoping for one.
To miss this opportunity to make some huge social changes you must be some kind of loser bum.