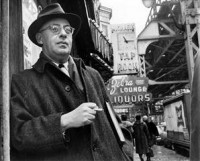 New Orleans Driving back from a union bargaining session at the NASA Michoud facility I just missed a call from a 207 area code.  Returning the call, it was a pleasant surprise to find the caller was none other than Nicholas von Hoffman, who is somewhat known to people now for his journalistic and broadcasting career, but to me always as a place in the pantheon as perhaps the best of all the organizers to work with Saul Alinsky back in the day.
Nick had some small questions for the introduction of a book he was finishing for Perseus which he described as something of a homage to Alinsky.  He wanted my opinion on Alinksy's legacy.  We talked about the several times that Alinksy had done sessions with my staff at Massachusetts Welfare Rights in early 1970 and various other things that we dispatched quickly.
More interesting to me was my quid pro quo. I wanted to ask Nick a couple of questions from his time about Alinksy's real views from his perspective as opposed to the views that have been carried forward by the acolytes to the present.