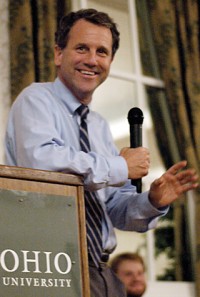 New Orleans  Steven Greenhouse reported in the Times today what most in the labor movement have come to expect for quite a while:  card check is not going to emerge in any final labor law reform at this time.
Card check, as many must know, is a procedure allowing for recognition of a union as the workers' representative based on counting the workers' voluntarily signed union authorization cards, rather than going to a government supervised election.  Put politicians in the squeeze with business and add the confusion over workplace "democracy" and elections, and all of us knew this was going to be a hard, hard sell.
Quick elections would get the job done and probably make bargaining a little easier, so there's still a heartbeat for real reform.
More troubling to me was seeing that Senators Sherrod Brown of Ohio and Arlen Specter of Pennsylvania were key members of the gang of six that are pushing for this watering down of employee free choice.  Senator Pryor from Arkansas is to be expected as a moderate voice, and if he can bring Senator Blanche Lincoln from Arkansas and leverage Senator Mary Landrieu from Louisiana, then we may not have to cross the street in Little Rock when we see him coming down the same side.