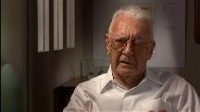 New Orleans The last day in the office before a combination of the end of the year, vacation, and work that is so different from the normal day-to-day that it seems "vacation-like," (don't ask!), is maddening.  There's just not enough time.
I had just gotten another reminder of how short time is only hours ago. This time it was in the form of a message from Frank Arundel, who along with Hans Schoepflin of the Panta Rhea Foundation, had worked for Sol Price earlier in their careers, and arranged for me to meet him a little more than 4 years ago to see if he would support our organizing of Wal-Mart workers in Central Florida from Tampa/St. Pete to Orlando.   I gather he must have been 89 or so when we met.  He was feeble and beaten up then, but sharp as a tack.
I've written about this before I think.  He was excited about actual organization of Wal-Mart workers.  He wanted us to look into old legal protections against restraint of trade by essentially dumping goods on the market for less than they cost.  He thought this was against the law, though we could never prove it.